NYC SEO Company
Our SEO services cater to all local businesses and individuals throughout Manhattan. SEO Image can get your NYC business amazing Local SEO results, Paid Results, and an Amazing Brand Reputation.
No other NYC SEO company has received the brand recognition and extensive list of awards that we have since 2002. That's why our clients stay with us for years. Clients that stick out the first 6 months to 1 year, stay on for several years. We even have clients with us for over a decade!
Catering to all of Manhattan and the surrounding NYC metro areas including Brooklyn, Queens, Bronx, Westchester, Staten Island, Long Island, and Nationwide! SEO Image is headquartered in Midtown, Manhattan. Our SEO Agency has worked on marketing projects for Fortune 100 clients and industry leaders including Canon, Sotheby's, Fig & Olive, BLT Steak, and GlobalSign (type in "SSL Certificates" and see our work!).
Looking for online reputation management for your business or your name? We get can help achieve flawless positive branding for your business on the search results, we can also help with the suggested search results. We have comprehensive strategies to help optimize your brand visibility.

We get our clients Top 10 Rankings for even the most competitive terms as well as local and national regional keywords. We are a leading SEO Agency and offer Web Design, SEO, PPC, and Reputation Management services, making us a one-stop-shop and a full-service Internet marketing firm. SEO Image will get you rankings, improve your online reputation, and make your website look amazing.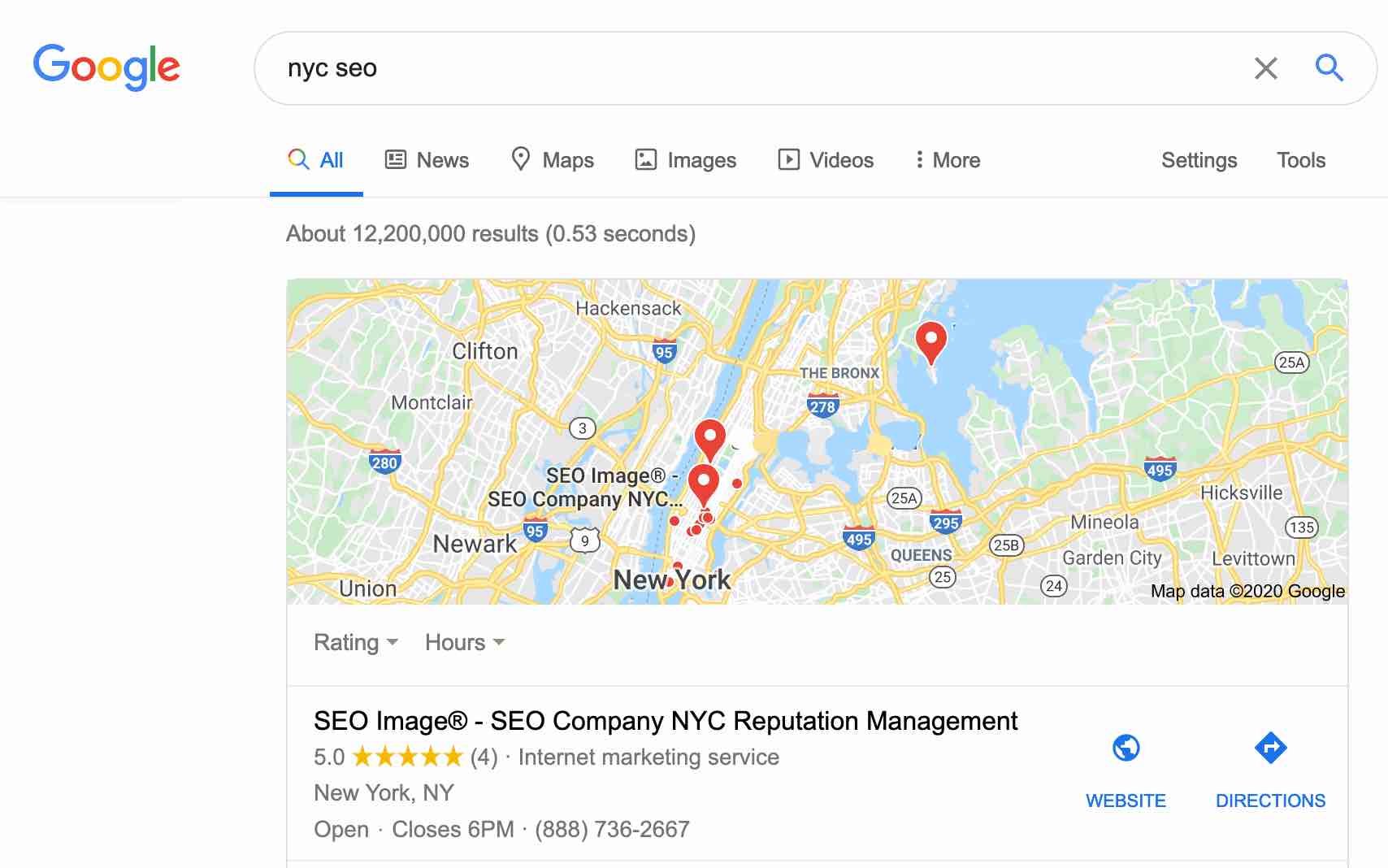 Get the Best NYC SEO Company working for your business success! Contact Us Today: 888-736-2667
We're in NYC & Long Island:
535 5th Ave, 4th Floor, New York, NY 10017
SEO Image in Long Island
200 Broadhollow Rd, Ste 207, Melville, NY 11747
Contact Us, to find out why top news portals use us as a reference and why numerous top sites rank us as one of the Best SEO Companies in NYC and Nationwide.
We cover all of Manhattan including Upper East Side, Upper West Side, Midtown Manhattan, Downtown and Lower Manhattan, Financial District, Diamond District, SoHo, Chinatown, Little Italy, NoHo, Hudson Yards (an SEO Image client - yes, the neighborhood), Greenwich Village, East Village, West Village, Harlem, Theater District, Battery Park City and every other part of NYC. We have clients worldwide.
We offer Worldwide and Nationwide SEO and service all The NYC Metro areas.
Manhattan SEO | Brooklyn SEO | Queens SEO | Bronx SEO | Long Island SEO | Staten Island SEO | Westchester SEO | NYC SEO
NYC SEO Services
Contact Us for NYC SEO Services
Request For Proposal
Tell us your marketing goals and we will contact you.


We Know Our Stuff! See Our BBB Webinar